Acquiring certificate of approval of Quality Management System-Requirements (JIS Q 9100 : 2009)
December 6, 2016
Okaya & Co., Ltd. is pleased to announce that the Aerospace Team of Okaya & Co., Ltd. was certified for JIS Q 9100: 2009 as of November 11, 2016.
Incorporating unique requirements for the aviation, space and defense industry into ISO 9001, JIS Q 9100 is a quality management system of international standard established in Japan.
As equivalent management systems, the USA and European nations have established AS9100 and EN9100 respectively. Since these management systems are mutually recognized technically and internationally, JIS Q 9100 is also valid for the US and European firms. (Note that both AS9100 and EN9100 are valid in Japan as well.)
With this accreditation, Okaya & Co., Ltd. is committing to expansion of sales in the aviation, space industry, where growth is expected.
Details of certification
Certified organizations:

:

Aerospace Team of Okaya & Co., Ltd. (Specialty Steel Department at Nagoya Head Office / Industrial Machinery & Materials Department at Kobe Satellite Office to Osaka Office)

Applicable quality management system:

:

JIS Q 9100: 2009

Activities:

:

Sales of forged parts for engines for aviation industry and others

Certification body / Registration No.:

:

Lloyd's Register Quality Assurance Ltd.
(LRQA)/ YKA 4005463

Certification date:

:

November 11, 2016
Certificate of Approval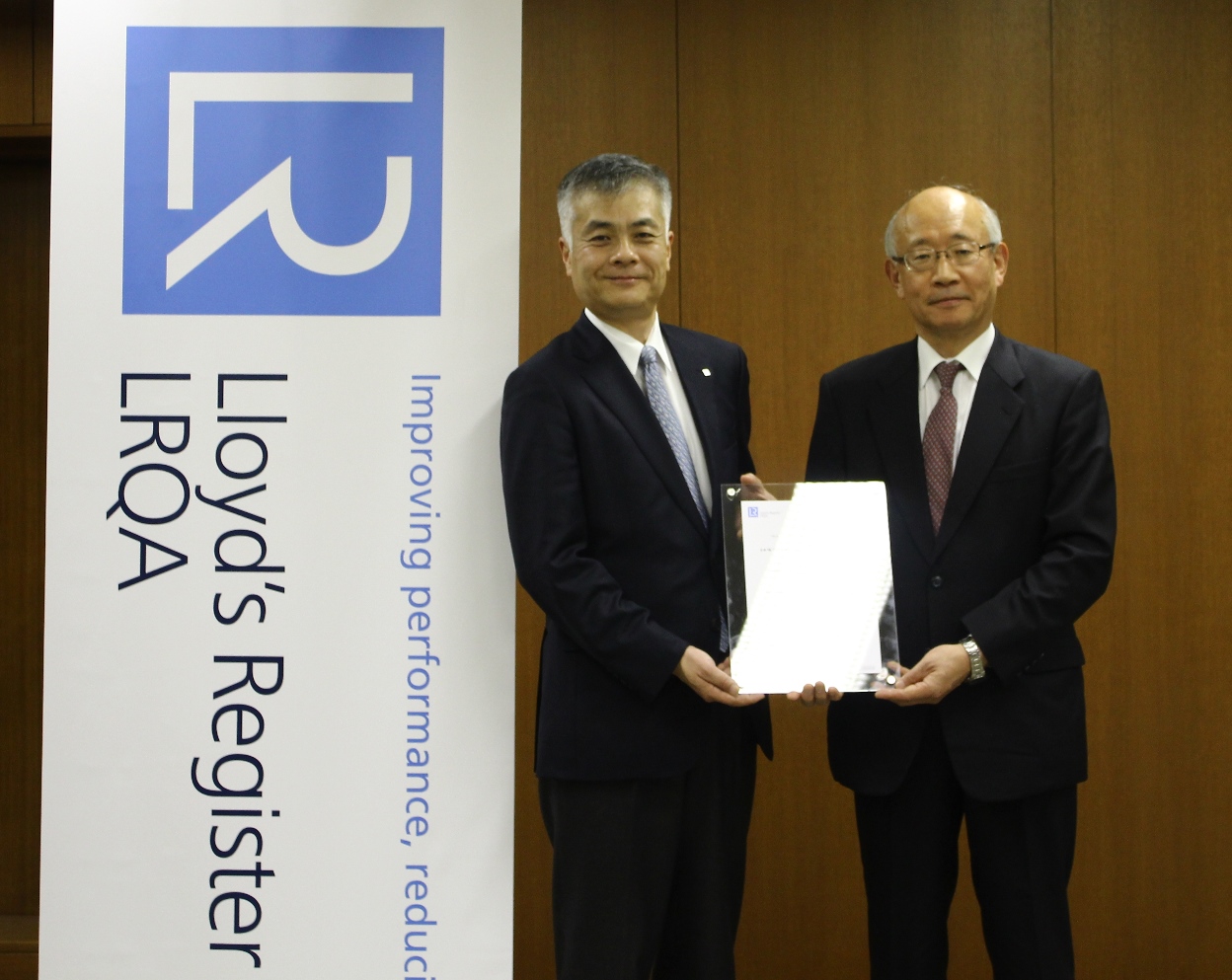 Left: Toshihiko Shirabe, Area Operations Manager, North Asia, LRQA
Right: Toshiaki Baba, Senior Executive Managing Director, OKAYA & CO., LTD.