Announcement Regarding Acquisition of ISCC PLUS Certification (International Sustainability and Carbon Certification)
September 27, 2023
Okaya & Co., Ltd. is pleased to announce that we have obtained ISCC (International Sustainability and Carbon Certification) PLUS, an international certification system for sustainable products.
While ISCC is becoming more popular primarily in Europe, ISCC PLUS certification applies to products from all over the world, including those outside the EU. This is a certification system that manages and guarantees products such as biomass raw materials and recycled raw materials manufactured using the mass balance method (*1) in the supply chain.
Demand for environmental business is expected to increase in the future. Therefore, we will strengthen our supply chain, contribute to manufacturing both domestically and internationally, and strive to realize a decarbonized society.
*1. In the mass balance method, the mixed supply of sustainable raw materials such as biomass-derived raw materials and fossil fuel-derived raw materials is managed according to the proportion of sustainable raw materials input. It is expected that this method will play an important role in promoting initiatives for sustainable material procurement, and it is becoming popular in the chemical industry.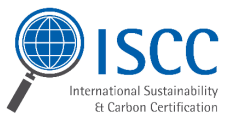 (ISCC corporate logo)
For inquiries on this matter:
Okaya & Co., Ltd.
Tokyo Industrial Chemical Department, Industrial Chemical Division, Tokyo Head Office
(Phone: 03-3215-6205)